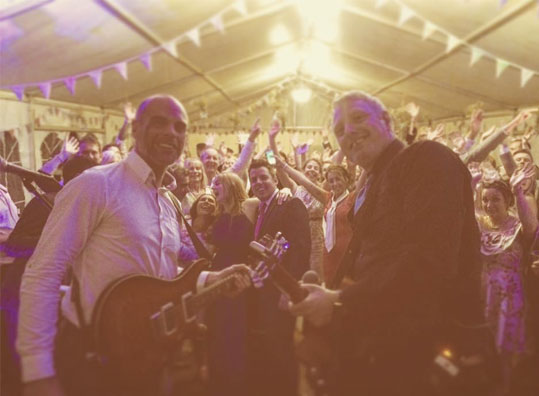 SO YOU'VE BOOKED THE VENUE, BOOKED THE PHOTOGRAPHER, ORDERED THE DRESS. NOW IT'S TIME TO MAKE SURE YOU HIRE THE PERFECT BAND!
'Mad About Tomorrow' have been the life & soul of wedding parties across the UK & Europe since 2012 and with a new, hi-spec PA system for 2018, they're ready to take things to a different level this year. With countless modern classics added to the set, the band are sure to retain their status as one of the UK's best professional wedding bands in the year ahead and leave wedding guests across the land cheering for more…
The reality is that you only really want one thing from your wedding band… You want them to pack the dancefloor with epic hits! Right?
If that's so then you've found what you're looking for. The band has that core value at the very heart of everything it does, down to choosing their repertoire, lighting, even what they wear. Combine that single minded approach with complete professionalism, stunning musicianship, unbeatable management and fantastic value pricing and you know that booking Mad About Tomorrow is a decision that will take your wedding party to the next level and leave you the envy of every couple in town!
With hits from across five decades, you can be sure that whatever the age of your guests, there'll be something in the bands' repertoire that they'll enjoy and get involved with. 
Before, between and after the bands' sets, the band provide a disco service using their massive, up to date catalogue of songs (5000+) so you don't need to hire a separate DJ for the night! Perfect! 
The band consists of four superb musicians, and above all, great entertainers. Your guests aren't there to listen to a band, they're their to have a party and that's the ethos of the band from start to finish. If you like what you've heard, complete the form to get a quote and book 'Mad About Tomorrow' to be part of your big day!


-3-Piece Professional Wedding Band
-Free Disco (Before, Between & After Sets)
-All Inclusive Prices – The Price Quoted Is The Price You Pay
-Fully Insured (£5m Public Liability Insurance)
-Flexible Payment Options – Interest Free Monthly Payment Plans Available
-Flexible Set Formats –  (3x40m, 2x60m or 1x45m & 1x1hr 15m)
-All Stage & Disco Lighting Included
-Book Direct – Avoid Agency Fees!
-Afternoon Soloist Or Duo Option Available (Additional Charge)
-5 Star Rating On Wedding Band Reviews
---
Check
Pricing
&
Availability
Please complete the form below;